President's Message
March 2023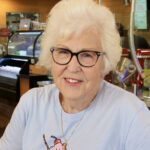 Have you taken out a loan to pay your gas bill?  Wow, the talk among us has been the extra high bills we received for January usage.  This has been the coldest weather we have had in a long time.  It has been good to have the rain and snow, but it has caused problems for a lot of people in burn areas, trees down, and closing in people with snow.

Mark your calendars for these events: We have booked the Garden Grove Elks Club for our Saturday, December 2nd Holiday Luncheon, and the Ladies Tea will be on Saturday, May 6th at the Spring Tea Garden in Fullerton.  The ladies will receive an invitation with the April Newsletter.

 Please see the notice on page 1 of the Flivver and Flapper newsletter in regard to having enough members that are members of the National Club, so our club is eligible for insurance for our club events, and insurance to cover our Board members.  If you're not a member of the National Club, please consider joining.  You can join on-line, and the Vintage Ford Magazine has a lot of good information.

After talking with the National Club about having a National Tour in the spring of 2025, it has been decided by the Board that we will do a Regional California Dreamin' Tour instead in 2025.  I am happy about this since it would allow me to drive my Chevy.  Help will be needed, so let Dave Seiler know that you would be interested in helping.

See you at meetings and on tours.
Jean