President's Message
January 2023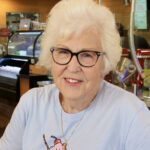 I think our Holiday Dinner was enjoyed by those who came. However, Marie Callender's did not do a good job. Barbara Moody called in the head count and menu choices the Tuesday before the dinner. When we arrived, the waitress told us that they over sold the pot roast on Saturday, so they could not give us the full amount that we ordered. Some of our guests were asked to choose something
else off the menu. And, we had ONE waitress for 44 people, which made for a long time for getting food out. When platters of salad were brought out, Barbara Moody, Gerry McKinney, and
Robin Fry stepped in and passed out salads. They even did a little clean-up of the plates. Thanks, girls, for a great job. I wound up with a special gift thanks to Tracy Asplund. I won a special Model T quilt that was made by Andrea Plessner; that looks great on one of my guest beds. Mike Plessner was not able to entertain us with music due to restaurant policy. We can do it next year. Next year we are considering having the dinner at the Searchlight Ministries Church in Fullerton where we hold the swap meet, and have it catered by Brendan Asplund who did our BBQ at the 2021 Auction.
We should have some good tours this year and would like to see more come out for them. The inspection tour on Saturday, January 21st is a good time to check your T out.
If you are not a member of the National Club, there is information on membership and the benefits. There is lots of good information in the Vintage Ford Magazine that comes out every other month. If you have not gone on a National Tour, there
is one coming up in June 2024 in San Diego that you might want to consider since it is close to home.

See you soon.
Jean