President's Message
April 2021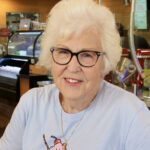 Hope all had a somewhat normal Easter with your families.
Glad that we can finally go back to having our General Meetings.
A correction on Barbara Moody's years as Historian – she is in her 26th year. She has the record for years consistently on the Board and in the same office.
Colleen McCune has set up a Ladies Tea for Saturday, July 10th.  So ladies, mark your calendar.  A flyer will be in the May newsletter.
Rich Dobson is resuming the Thursday night work parties. If you are not on the email list for notification of the tech sessions, email Rich at [email protected].
Jean
The next board meeting will be held at the Moody's home on Tuesday, April 27th at 7:30 p.m.