President's Message
November 2022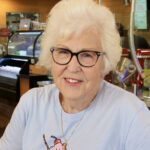 PRESIDENT'S MESSAGE
PRESIDENT'S MESSAGE
We will vote on a new board at our November meeting. We only made $107.00 on the Swap Meet after donating $200 to the church for letting us use their parking lot.
The Pumpkin Fest at Cal Poly was fun. The students did a great job. There was a corn maze, crafts, petting zoo, a farmer's market, and some great food. I am holding Barbara's potatoes on a stick. I had a taste and they were good. Three of us will be doing the Corn Festival Parade in La Habra on November 12th. I am looking forward to Randy's Donuts, their assortment online looks very delicious.
Hope you all have a great Thanksgiving with your families and friends. The Smith family annually camp at Prado, and some of us will camp at O'Neil Regional Park.
Jean
There will be no Board Meeting in November. The next board meeting will be hosted by Larry Walker on December 27th at 7:30 pm at the Mahoney's.