President's Message
July 2021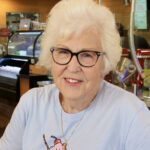 It was so great to be able to have our potluck in June. Lots of good food! Someone left the brownies they brought, and I wound up taking them home. Thanks for leaving the brownies, they were sooo good. I shared them with them members who went to the Vista Farm Show.
I am so glad we will be back at Villa Park City Hall for our meetings starting this July.
I spent July 3rd at the Brea County Fair, along with several of our members showing our vintage cars and enjoying the company of our friends as we sat near the cars under a canopy.
It will be nice to finally have our Ladies Tea this year, it was cancelled last year.
Check out the events in July. Since there is no specific tour for July, if anyone wants to plan one, let me know and we will get it in process.
Jean
The next board meeting will be hosted by Jean Knowles at Jack Smith's home on July 27th at 7:30 pm.