President's Message
December 2021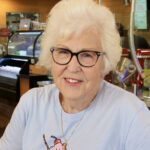 With heavy hearts, my brother Dale and I mourn the unexpected death of Dale's twin brother Dwight from a fall from a height of approximately 13 feet on October 15th.  Thank you to those who have sent condolences through emails or cards.
Well, this has been another year of Covid with limited activities, and some in our club who have had it.  I wish for a healthy next year for each of you.
Jack Smith will be asking for members to help with putting on tours next year.  Our January Tour will be the "Inspection Tour" hopefully at Tom Leroux's shop.
We welcome Fred Spivey who will be new on our board next year. We look forward to working with him.
Thank you for letting me serve as your President next year.  It will be my 7th year as President, and I will have served as many years as Mark Mahoney.
Your 2022 Board:

President – Jean Knowles
Vice President – Rich Dobson
Treasurer – Dale Moody
Secretary – Mary Schultz
Editor – Jean Knowles
Tour Director – Jack Smith
Historian – Barbara Moody
Board Member – Robin Fry
Board Member – Tim O'Gorman
Board Member – Fred Spivey
Board Member – Larry Walker







 

Merry Christmas & Happy New Year
Jean