President's Message
February 2021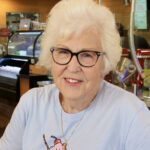 It is sad that we have to cancel our General Meetings, but it seems to be the right way to go for now.
On page 4 check out what other projects Larry Walker has come up with during the stay at home order, what a creative guy.
Interesting information – While at the Moody's for the January "Zoom" meeting, Barbara Moody told me about an article with a Model T in her AAA Spring "Westways" magazine.  The picture was familiar to me and I found I had put the article in our 2020 October Newsletter.  I checked my AAA Spring magazine and it had a completely different car article.  It seems the LA version of the magazine is different for some articles than the Orange County edition.  I want to do a page by page comparison sometime soon.
The Turner Auction information that was emailed to members paid off for Nick & Brandon Asplund who won the bids on the '12 Torpedo and '21 Center door.  Congratulations!
Jean
The next board meeting will be a "Zoom" meeting on February 23 at 7:30 p.m.