President's Message
September 2022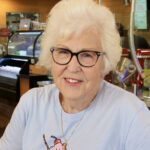 PRESIDENT'S MESSAGE
Some of the board and me gathered at the Moody's home to go through our archives to determine what we could get rid of.  There were about 7 boxes we were able to eliminate.  We had the help of longtime members Mark Mahoney and Garrett Green to help make the decision.  This helped to cut down the storage space for our Historian Barbara.
We have such an array of talent in our Club. I have included on page 10 of this newsletter a write-up about the three "California Dreamin' Regional Tours" our members put together. In next month's newsletter, I will share the three National Club Meetings that we hosted. Barbara, our Historian, will bring photo albums and the quilt that was made for the first National Meeting.
The wait is coming to a close on new Club T shirts, thanks to our Club Store manager Tim O'Gorman. They were ordered a week ago. They will be available soon and the cost will be $15 each.
We will be opening up nominations for 2023 Board positions at our October Meeting. If you would like to be on the Board, contact Rich Dobson 714-357-0871.
Jean
Program: Bob Wank, retired Sergeant with the Orange County Sheriff's Department, and presently a flight attendant for JetBlue, will talk about his 9/11 experience at Ground Zero with his K-9 companion, Aris