President's Message
June 2021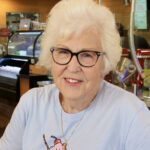 As some of you know, Colleen McCune is related to me by marriage to my cousin Paul. She was a very giving person and ready to help where needed. She worked at UCI Irvine for many years and looked forward to retirement, which happened a couple years ago, and planned to do some traveling. She had quite a career helping the Boy Scouts and volunteered for several years at the Vista Antique Gas & Steam Engine Museum.
She and Andy enjoyed driving their John Deere tractors around the museum grounds. Our first Ladies Tea was organized by Colleen; at the very place we will have our Tea this year. Please note on the Ladies Tea Flyer that Marie Von Karvaly has taken over for Colleen.
Rich has done a very nice write-up on our Charter Member Harold McGee in our club newsletter. Both Colleen and Harold will be missed.
Check out the events in June.
Jean
The next board meeting will be held at Mary Schultz's on June 22nd, at 7:30 pm.