President's Message
October 2021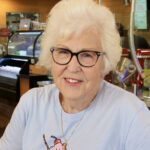 Thank you to Robin Fry for setting up Angie Kardashian to speak at our September general meeting on her experiences after 9/11. It was very interesting.
At our October meeting we will open nominations for the 2022 Board. If you would like to volunteer to be on the board or nominate someone, contact Rich Dobson (714-357-0871).
The past few weeks have been the busiest for our club with our general meeting, Tour to Flo's, the Club Auction, Thank you Tour, and the Annual Swap Meet.
Our Auction on Saturday, September 25th went well, and for a first that we can remember, it ended early at 7:30 pm. A lot of combining items helped. A thank you to members for donating items and attending the event.
Our auctioneer, John Herd, did a great job as usual and did not lose his voice. After several years, this is the last year that Dale & Barbara Moody will host the event. A new place and younger members will need to take over to do it again. So let's hear it for another great job!!!
Our Swap Meet on Saturday, October 2nd had 15 vendors. There was a fair amount of buyers, but did not see a lot of items being carried away. After expenses, we cleared just a little over $200. We will need to discuss whether to continue with the meet.
Jean
The October 26th board meeting will be hosted by the Dave Seiler at his home starting at 7:30 pm.