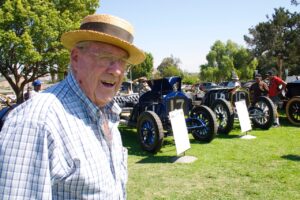 The Orange County Model T Ford Club is a chapter of the Model T Ford Club of America. Founded in December 1958, Incorporated in California on April 29, 1960. The Club is dedicated to the restoration and preservation of the Model T Ford.
PRESIDENT – Jean Knowles
VICE PRESIDENT – Rich Dobson
SECRETARY – Mary Schultz
TREASURER – Dale Moody
TOUR DIRECTOR – Dave Seiler
EDITOR – Jean Knowles
PAST PRESIDENT – Jack Smith
HISTORIAN – Barbara Moody
BOARD MEMBERS

Robin Fry
Gerry McKinney
Tim O'Gorman
Larry Walker

SWAP MEET – Open
WEBMASTER – Wyatt Fry
FACEBOOK – Rich Dobson
To Join
There are multiple ways you can join the club:
Dues are $25.00 per year
Meetings
Meetings are held on the second Tuesday of each month at 7:30 p.m. except in the months of June and December when we hold our club potluck and annual holiday party. Navigate to the "Monthly Program" page of this website to confirm these event times and locations for all meetings.
MTFCA
National Club dues are $40.00 per year, which includes six issues of "The Vintage Ford" magazine and all privileges of the national club. Mail directly to:
The Model T Ford Club of America
PO Box 996
Richmond, IN 47375-0996
National Web Site: http://www.mtfca.com