Holiday Light Tour
Saturday, December 11th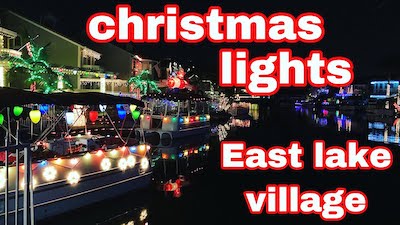 Jack Smith has planned our Light Tour since Dave and Penė are still recuperating from Covid.
We will meet at Mr. D's Restaurant at 4 PM for dinner, 126 Yorba Linda Blvd., Placentia, CA 92870, west of Kraemer.
After dinner, we will go east on Yorba Linda Blvd. to East Lake Village for their wonder display of lights.
East Lake Village – There are 191 homes that sit upon the 15- acre lake, all decorated for the holiday season, both on the lake and street side.
Boat Parade – always scheduled on the second weekend in December, beginning at 6:30 pm. Come out and watch 40+ boats parade on the water!
Like the good old days, we would like to ask the participants to put lots of lights on their Old Cars.
Call Jack Smith to sign up (714) 529-6653. 
Holiday Motor Excursion
Sunday, December 26th